If you live for the summer months, don't spend that time trapped inside four walls, make a break for the outdoors. Carve out a living space in your backyard. What could be better than fresh air, comfortable surroundings, family, friends and the glories of nature. Before you relocate your favorite chair to the back deck, patio,or porch, let's take a look at a few ways you can make outdoor living more convenient and fun.
Placing your outdoor living room next to a detached garage may seem like a good idea when the location is near a nice shaded area, but there are definite advantages to placing your outdoor living room adjacent to (or at least close to) your house. Service friendly areas of your home are more accessible that way. Getting iced tea from the kitchen or toting kabobs to the grill will be easier, and if you don't have an outdoor entertainment center, accessing your sound system will be a volume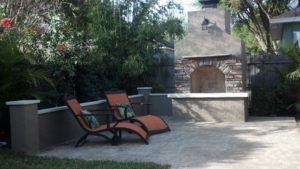 adjustment and not a major relocation job. When the temperatures warm up, mosquitoes come calling. If you want to banish nasty mosquitoes from your outdoor room the safe and natural way, consider including mosquito-repelling plants in your landscape design. Some good candidates are catnip, citronella (yes there's a citronella plant), marigold and peppermint.
Look around your indoor living room. You'll probably see lots of mementos and decor items designed to stir memories and make your guests feel welcome. Try translating that level of detail to your outdoor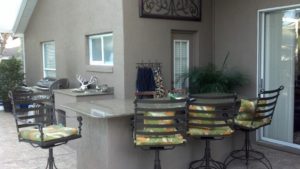 spaces, too. To work outdoors, homey touches will have to be all weather and heavy enough to stand up to a stiff breeze. Consider installing a woven grass rug or mat to define the seating area, and then include tables and lamps. Throw in some pots and planters for color and interest. Including decorative, natural elements always works for an outdoor space.
As nice as it is to stretch out on your lounge chair and listen to the radio, read a book or peruse the newspaper, eventually, you'll start looking around for other diversions. Birds and butterflies are nice, but you can't really rely on them to arrive on cue or stick around after sunset. What's the solution?
Barring moving the flatscreen outside, there are some outdoor amenities that can keep you amused and delighted until there's frost on the pumpkin. Some of the top favorites are fire pits, fireplaces, fish ponds and illuminated waterfalls. Even if you don't have a fortune to spend on, say, an outdoor pool table, just setting up the grill nearby and watching the grilling expert in the family perform his wizardry has entertainment value — and at least you won't be the one doing the cooking.