Are you dreaming of a gorgeous, functional kitchen remodel? Dreaming is an important first step of eventually achieving your goal. Just be sure to follow up with the equally important second step: Planning. This means finding out all the facts and figures essential to
transform your dream kitchen remodel into a successful reality. In this article, we lay out the basics you must know about kitchen remodeling, in terms of both feet and inches and dollars and cents.
The cost to remodel your kitchen could range anywhere from $14,200 to $50,600 for a 100 square foot kitchen, depending on the extent and luxuriousness of the remodeling. In real estate experts recommend that you spend a maximum of 10-15% of the value of your home. The expected return on your investment is approximately 79% of the midrange cost of a small kitchen remodel, and 68% of a major overhaul.
Keeping the cabinets isn't always best if they aren't in good condition. The idea of refinishing existing cabinets is only cost effective if they are in good condition. If your cabinets require extensive cleaning, or repair, take the costs involved into consideration. Don't forget the labor costs when making this decision, unless you do the repair and refinishing yourself.
Remember going simple can save! If you like the idea of an expensive material but can't afford it you may have an option. You can sometimes get more expensive woods in simpler styles for a better price. Always take the time to check a supplier's catalog more deeply to see what is available in these simpler styles.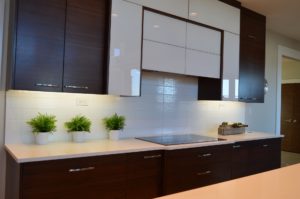 If you keep all these facts in mind you can make your kitchen remodel more of a success. Any remodel is complicated; a kitchen remodel is one of the most complicated to take on. Taking care to gather all of the information available will make your remodel successful.