When you are flipping a home, time is money and there is not a lot of room to make mistakes. Here are some of the more common and costly mistakes to avoid if you are considering becoming a house flipper.
Not Getting A Home Inspection
Even if you plan on ripping the house down to the studs, it is still a good idea to get an inspection. However, if you are going to tear the
whole thing down, then there really isn't a point. But house flipping normally involves making cosmetic changes to make the home more modern. So long story short, you need to get an inspection.
Inspections can uncover all kinds of problems like a cracked foundation that can end up costing you dearly. At the very least, an inspection can identify problems you can use to bargain down the price. Whatever money you save on the purchase price will help you make more of a profit at the end of the end.
Overestimating Your Renovation Skills
The more money you can save on labor the better off you are but don't overestimate your skill set and end up costing yourself more money. This can end up becoming a black hole to your wallet because not only do you have to pay someone to fix what you did but now you pushed back your finish date. Be sure to consult an expert before you dive into your major DIY project and ask for a written estimate. That way you will know what you will have to spend.
Underestimating Total Costs
Many inexperienced flippers often add the purchase price to renovation costs and figure the sum is their breakeven point. However, the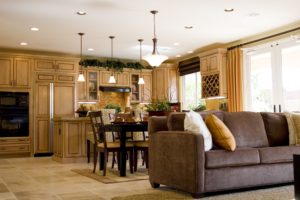 true cost of your flip involves a lot more: state and federal taxes on profits, real estate commissions, title searches, transfer taxes, inspection and appraisal costs, and some other fees that show up at closing when you buy, and again when you sell your property.
The best thing to do is thoroughly research the total cost of your project and then add a cushion of 10%-15%. It is better to be prepared to pay over what you expected when coming to the closing.
Jumping the Gun
Some flippers put a "For Sale" sign on the property before completing renovations, hoping a buyer will be able to envision how gorgeous the house ultimately will be. However, that is a big mistake. Some flippers think that this will peak buyer interest but assume they can see the finished product before it is done is taking a huge risk. So you would be better off listing the property when the project is completely move-in ready.
Designing For Yourself, Not A Buyer
Never fall in love with a property. Flips are just short-term projects that must appeal to the widest possible market. When you design your flip, take yourself out of the equation. You may love bright neon colors but you should stick with whites and neutrals. Research design trends,  walk through open houses of new construction and survey real estate agents to find out what is selling and what isn't. You have to create an attractive blank canvas, if you don't then you flip will end up staying on the market longer and cost you more money.