The kitchen is often labeled the heart of the home and therefore the kitchen island is the natural gathering place. Kitchen islands have boomed in popularity over the years because they provide additional counter space and storage. They also come in a variety of different sizes and materials to accommodate your floor plan and style. We are going to go over some different styles of these islands to showcase just how different and useful they can be.
Built-in Booth
When an island is typically built, stools are typically the direction most people go in. However, you can design your island to have a built in booth. A kitchen island with this kind of seating creates a cozy gathering spot for family meals.
Homework Station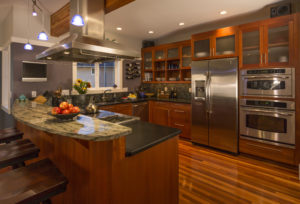 With a two-level designed island, this provides the perfect place for your kids to do their homework while dinner is being made. The only downside to this design is the clutter. With this island being a homework station clutter is inevitable. So the best thing to do it find a place to stash notebooks and school supplies that isn't on the countertops.
More Storage
Everyone needs more storage in the kitchen. An island is a great place for extra drawers, shelves, wine racks, or glass-front cabinets. You can also install a wine fridge into your kitchen island. This will give you extra space in your refrigerator and give you a temperature-controlled environment for your most prized bottles of wine.
Cooktop or Sink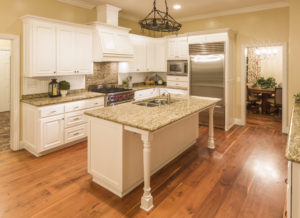 Depending on your preference and design style you can choose between a cook top or a sink to be placed on your island. You can also add a grill or griddle on the island and use the main stove's burners for regular pots and pans. Having an extra cooktop would be a great addition to a family who hosts Thanksgiving, Christmas, and other family gatherings. On the flip side, having an extra sink installed on the island could also be a huge bonus. In one sink you could be washing lettuce while the other is filling a pot. If you are big into cooking gourmet meals and you are really looking for a proper chef's kitchen, either of these options would work for you.