The living room is typically viewed as the most important room in the house, next to the kitchen of course. It's the place where life happens, hence the name. So wouldn't you want it to look like it jumped out of a magazine? However, once you realize that magazine living room costs a few thousand dollars that dream of a luxurious living slowly starts slipping away. Don't worry, we are here to tell you that you can have that luxurious living room but not for the luxury price.
Create a Layered Concept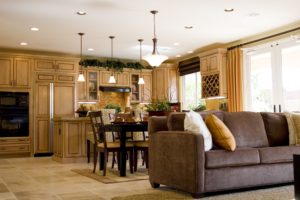 Lighting is one of the most important concepts in a space, and one that is often overlooked. You want to have a variety of light sources to add depth to the room. However, you don't have to empty your wallet to go glam on lighting. Trying hitting up Goodwill for lamp bases and Target or Walmart for lampshades.
You could also hang a great pendant light in place of a traditional table lamp. Another cheap trick that won't require any labor is to try plug-in sconces. Placing these next to furniture arrangements can be an affordable way to update a space without bearing the cost of rewiring a wall. Adding dimmer switches is another way to make a room feel expensive, this lets you adjust the lighting so the space feels warm and cozy.
Invest in Textiles
One of the easiest and best ways to dress up a room is with great pillows, but they can be so expensive. An easy way to cut costs is to hit
up Hobby Lobby or Michaels where you can ofter find beautiful scraps for a discount. Then find a friend, family member, or co-worker to sew you a pillow. This will get you pillows that would easily cost you $100 or more for around $30.
Make Sure Your Curtains Hit the Floor
A good window treatment can add instant luxe factor to a room. However, you never want to buy draperies that are too short. Make sure to measure the window before you head to the store. You could also make your own with sheer, lightweight cotton fabric.
Invest in Large-Scale Art
An oversized, attention-grabbing piece of art can both spark conversation and upgrade your living space. However, you will want to resist getting an anonymous landscape from Bed, Bath, and Beyond. The best art has personal significance. Check out secondhand shops and estate sales for pieces with a backstory. If you're on a budget, get creative and DIY your way to a masterpiece.
Incorporate texture
Design experts recommend incorporating a variety of woods, glass, metals, and woven materials to create a look that's collected, not matchy. If you are on a budget, get a faux-fur blanket or sheepskin throw on your couch, jazz up leather chairs with fun pillows in chunky knit cases, or incorporate brass accents on a wooden coffee table.
Roll Out a Large Rug
Small rugs dwarf your rooms. Opt for a larger, less expensive rug over a smaller, expensive one especially if you have kids and pets, both of which can wreak havoc on wool rugs. When your room feels bigger due to the larger rug, it will feel more expensive. Also, just because it looks luxurious doesn't mean it can't be durable. Jute rugs are a great option, and can often be found at discount home furnishing stores. They offer great texture and an earthy feel.
Use Metallics
A little heavy metal never hurt anyone. A metallic desk clock, pedestal table, or decorative accent can instantly add wattage to a room and up your fancy quotient. Adding a little bit of glitz and glam can really add wow factor.
Replace or Add Moldings
One of the easiest ways to make a home feel more expensive and luxurious is to improve its interior architecture. If you have narrow baseboards and molding, replacing them with something thicker to achieve a more elegant look. It doesn't cost much to add applied moldings to any wall to create more charm and character. If the idea of cutting into walls and baseboards makes you uneasy, it is probably best to hire a pro.